First Thursday
First Thursday is considered by the locals to be one of the most loved and celebrated events in Cape Town.
Mostly because it is a great way to meet up with friends (or make new ones) and explore our beautiful cities. Oh, and it also happens to be 100% FREE!
WHAT IS FIRST THURSDAY THOUGH?
Well to put it briefly, on the first Thursday of every month from around 6 pm till late, thousands of people walk the streets of Cape Town (& Johannesburg) City while wandering between art galleries, restaurants, bars/clubs, and shops. It's the one night a month that the city truly comes to life.
After doing a couple First Thursday's with friends, it was decided that my next one would be documented to show all of you just how much fun you can have exploring the city by night.
So here we go…
My evening began at The Grand Daddy Boutique Hotel. Honestly, I give them a 10/10! Not only are they the only hotel that participates in First Thursday by converting one of their areas into an art gallery, but they also have an amazing rooftop area with Airstream trailers and a live band! Cool right? If you're just not that into a live band, there is no excuse for you not to take a ride in their 124-year-old elevator. It is Cape Town's oldest working elevator and yes - it's 100% safe! As you can imagine, The Grand Daddy makes for quite a unique and popular stop.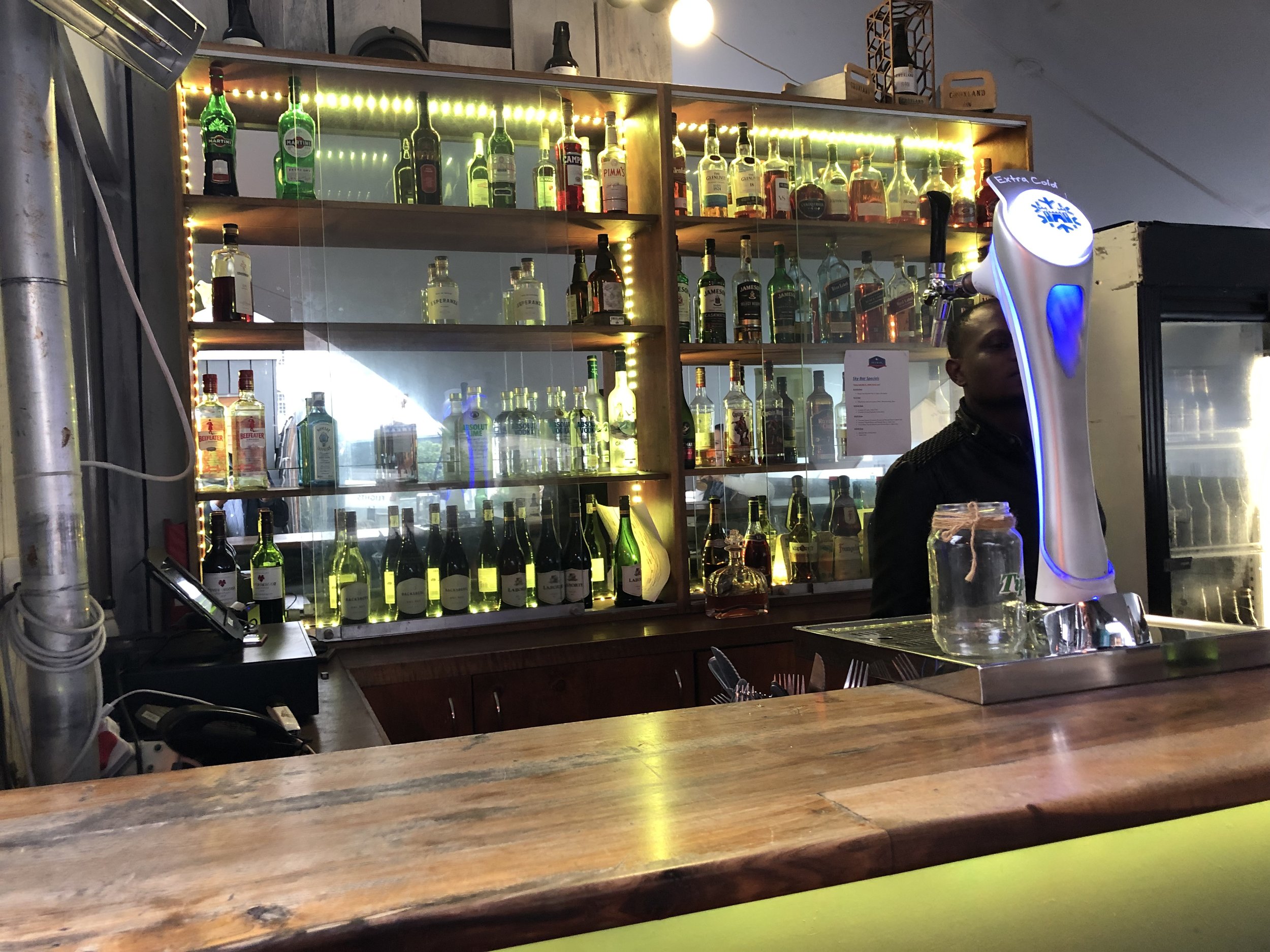 Now, time to hit the streets!
Our first stop was less than 100 metres away, the SA Sendinggestig Museum, where the City of Cape Town hosts the Emerging Artist Programme.
The programme aims to assist under-resourced emerging artists based in Cape Town by giving them access to new opportunities. I quite liked this stop. Unlike other galleries, there were many different levels of skill in the room, along with a wide variety of styles.
Next, we decided to make a stop at Villa Africa. This design studio and gallery specializes in customized furniture and unique art pieces.
The moment we arrived, the host sent us straight to the bar for a complimentary drink of our choice. I'm personally not much of a gin fan, but I have to admit, to my surprise, IT WAS GOOD!
The studio is quite large with an up and downstairs setup. If you're a fan of contemporary styles there is a lot to see and of course capture!
Looking at our trusty First Thursday map (these are extremely useful and can be found at almost all stops along the way, so be sure to pick one up), we were drawn to an area in Church Street that featured more than 10 stops all within a few steps of one another as well as a night market. Naturally, we had to explore it!
When we arrived, this street was buzzing with people going from one gallery to the next and socialising amongst the market stalls. It makes for quite the festive atmosphere.
We visited a number of the galleries and design studios whilst making friends with a few of the locals and artists. Be sure to set out quite a bit of time for this area as there's a lot to see and do here!
As most of the galleries began closing around 9 pm, we remembered we had passed a very vibey bar (also a member of First Thursday) called Aces & Spades near to the Grand Daddy Hotel. I could think of nothing better than to end off a good night with a cold beer and some great tunes by a local band.
First Thursday in Cape Town is something I will continue to recommend to anyone visiting the city and all the locals that have not yet experienced it.
If you've attended First Thursday personally (Cape Town or Johannesburg), please leave a comment below on the blog and let me know about any great spots you found on your route.
I'd love to be able to do this again with entirely new stops!